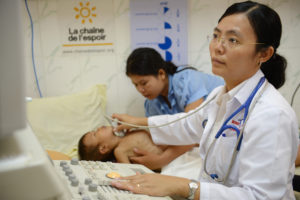 Acute rheumatic fever is a disease that can result from inadequately treated medical conditions such as strep throat. Rheumatic fever causes inflammation of the heart, blood vessels, and joints. When not properly treated, it can cause long-term damage to the heart and its valves.
Rheumatic fever presents a major health concern in most developing countries – affecting 3 out of 100 children aged 6 – 15. Compared to more developed countries, where the number of children affected is only 1 in 100,000, this number is astronomical. In response, USFC is developing a tool for non-medical staff so that they may perform ultrasound screenings for leaking mitral valves with the help of artificial intelligence. Leaking mitral valves are present in 80% of cases of rheumatic fever.
This AI tool would make it possible to detect patients with this condition and refer them to cardiologists for care. With increased screenings, comes increased diagnoses.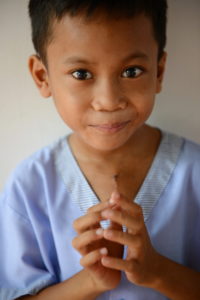 This AI tool will make it easier for non-experts to perform ultrasounds by offering:
Assistance in acquiring quality images

Automatic measurements

Improved ultrasound diagnosis
Through this project we seek to detect this condition before it progresses to a more advanced stage. If left undetected the mitral valve will become severely damaged and the patient will need costly surgical care. In order to ensure proper machine learning, USFC is growing a database of imagery and data. The data is being supplied in part by  French Polynesia – a region characterized by this issue. USFC is working on the development of this tool in partnership with French AI company, DESKi.