On Saturday, August 14, 2021 more than 11 years after the earthquake that devastated Port-au-Prince, Haiti was once again the victim of a deadly earthquake. For the thousands injured, we must intervene as soon as possible.
LOGBOOK OF THE EMERGENCY MISSION
Saturday, August 14, 2021 – Earthquake in Haiti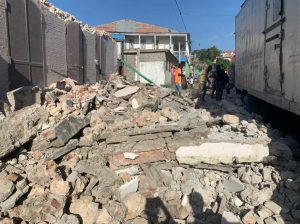 On Saturday, August 14, 2021, at 8:30 a.m. local time, a 7.2 magnitude earthquake shook Haiti. Buildings and homes were ripped open, many were injured or trapped under the rubble. The inhabitants remained completely helpless in the face of such a violent natural disaster. The epicenter of the earthquake was located in Les Cayes, about 120 miles away from the capital of Port-au-Prince. La Grande Anse – where USFC has been conducting a school health program for over 10 years to provide access to health care and quality education for poor children – counts among the most affected regions.
Monday, August 16, 2021 – Crisis unit
An inventory of the situation – in collaboration with our local correspondents – enabled USFC to assess the needs and set up an action plan. Medical teams of USFC were urgently mobilized to fly to Haiti.
Tuesday, August 17, 2021 – Preparation of the material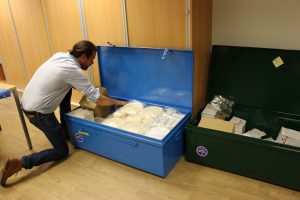 More than 10 years ago, on January 12, 2010, Haiti suffered a major earthquake. USFC's parent organization, La Chaîne de l'Espoir intervened to help those who were injured and flew in medical teams to support local personnel to treat and operate on patients.
From this tragic event we learned many lessons and, with the help of our corporate partners, USFC developed trauma kits that are ready to be sent in a moments notice during emergency situations.
Each trauma kit includes: external fixators (stabilizing frames to hold the broken bones in the proper position), screws, plates, pins, trephines, compression bandages, plaster, compresses, sutures, etc.
Wednesday, August 18, 2021 – Shipping, receiving equipment and first aid
A flight took off for Haiti. On board: a trauma kit, more than 400 pounds of surgical materials in 11 trunks and suitcases, as well as two doctors and two volunteer surgeons.
We would like to thank Air Caraïbes for their indispensable help in transporting this equipment.
After an 8-hour flight, our teams landed in Port-au-Prince. Numerous trunks of medical equipment were unloaded, stored and sorted at the Lambert Clinic. In this clinic, 5 beds were set up to treat patients and several operations were already planned.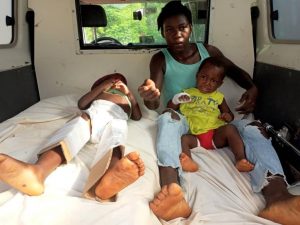 Thursday, August 19, 2021 – First operations
At 6:00 am, USFC teams went to the orthopedic surgery department of the University Hospital of Peace. There, the medical staff gathered to review patients files and X-rays in order to select the most serious cases for the first operations. The patients selected were quickly transferred and operated on at Lambert Clinic.
Friday, August 20 – Monday, August 23 – Continuing operations
In the space of four days, USFC conducted 15 operations, one after another, in Port-au-Prince. Operations were to treat injuries to wrists, feet, elbows and shins as well as crushed limbs.
At the Lambert Clinic, patients would arrive at 6:30 a.m. and they were sent directly to the operating room. Dr. Moora, Dr. Duverseau and Dr. Hans Larsen – Haitian surgeons from the University Hospital of Peace – came to assist the team at the Lambert Clinic and discuss operating techniques.
With the proper medical equipment, local teams and Dr. Colin de Cheveigné – a volunteer surgeon from USFC – were able to perform 15 operations. Patients were able to recover in the best possible conditions. Unfortunately, the most seriously affected patients presented injuries that were simply too severe for treatment. Despite the best efforts of our surgeons, some patients had to be amputated.
In parallel to these operations, a request for additional surgical materials, in particular pins, plates and orthopedic nails, was placed by the Immaculate Conception Hospital in Les Cayes. USFC is now organizing a shipment of some of the material brought to Port-au-Prince in order to help them.