My name is Dr. Boutin. I am a Pediatrician and Deputy Medical Director at United Surgeons for Children. I joined the organization four years ago to strengthen my commitment to children. We have already achieved so much together, such as establishing school health programs in Haiti and Togo. But today, I would like to take you, day by day, through the story of a pediatric surgery mission that took place in Benin in July 2021.
DAY 1 : DEPARTURE FOR COTONOU AND REUNION
Every adventure has a beginning. Mine, ours, begins at Paris-Charles-de-Gaulle airport on Friday July 2, 2021. That day, I met Isabelle Silva, my colleague and program coordinator for Togo and Benin at USFC. She is responsible for developing strategies to improve the medical care of sick children in these countries. To carry out this mission, she works hand in hand with local actors. As for me, I have been program coordinator for Haiti for the past 5 years. More recently, I have been appointed as Deputy Medical Director of USFC, where I provide medical support and expertise on various projects.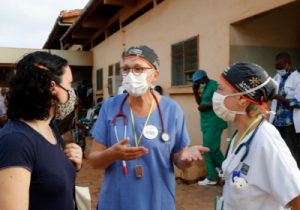 This Friday, Isabelle and I are getting ready to embark for Cotonou. A large port city whose name is sadly linked to slavery ("kutonu" meaning "the mouth of the river of death"). Located on the southern coast of Benin, with a population of one million, this city is now home to the country's main economic activities. Therefore, it is quite natural that this is also the hub of the country's pediatric surgical expertise. As a result, many people from rural areas travel dozens, or even hundreds, of miles for treatment.
It is because of this sad reality that we have chosen to organize a large-scale pediatric surgical mission in the rural village of Klouékanmé. To build awareness in the surrounding provinces of our impending arrival, we utilize broadcast radio advertisements to publicize these events.
But before reaching Klouekanmé to launch our mission, we had to land in Cotonou. Arriving on site after more than 6 hours in flight, we were welcomed by the warm and familiar faces of Prosper Adigbli and Hugues, who also work for USFC, in the field.
Crucial on this mission are Claire de Crisenoy, an anesthesia and resuscitation nurse, and Dr. Emilie Langlais, pediatric anesthesiologist. Both are members of our medical network and are associated with the University Hospital of Rennes, France. During a mission in which many children will receive operations in the span of only a few days, their presence is essential. We were also joined by USFC's Head of Mission for Togo and Benin, Espoir Datchidi.
Finally reunited, we were looking forward to heading to the village of Klouekanmé to start our mission.
DAY 2: TRAVEL TO THE HOSPITAL OF KLOUEKANMÉ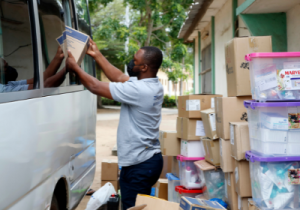 On Saturday, July 3, before hitting the road towards Klouekanmé, we had to verify and load our trucks with consumables (single-use medical supplies such as syringes and sutures), medicines and the equipment necessary for our operations. In even the most rural areas of France or the US, it's not difficult to find the equipment necessary to perform pediatric surgery. In Benin, and more particularly in Klouekanmé, this is almost an impossible task. Therefore, all of the necessary equipment had to be brought in from Cotonou.
We hit the road with the team from the Centre National Hospitalier Universitaire Hubert Koutougou Maga (CNHU-HKM). The team was composed of 17 people, including 4 students who are part of USFC's  diploma of specialized studies in pediatric surgery (DES-CP). In a very short time, all of them were getting ready to perform an significant number of consultations and operations.
Divided between buses and cars, our team arrived in Klouekanmé at 6:00 pm.
On the spot, we discovered the hospital. A hospital with a modest but sufficient structure for the surgeries we were about to perform. I walked through the first wing, where I found operating theaters, a sterilization room and a recovery room. In the next wing, I found two recovery rooms for post-op patients.
After unloading and organizing the supplies and medicines, we were invited by the director of the Klouekanmé Hospital to a welcome dinner. Together, we shared a moment of conviviality and exchange, enjoying the last hours of calm, before the pace of the mission would accelerate.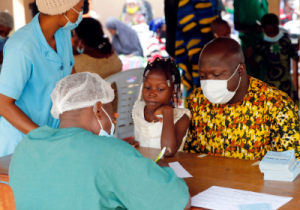 DAY 3: CONSULTATIONS FOR SICK CHILDREN
At 8:00 am, the Klouekanmé hospital was already very busy. Our radio advertisement had worked. At the end of the day, more than 879 tickets – one for each child – had been distributed to the crowd of families. These tickets would allow them to obtain a consultation.
After collecting a ticket, children went to one of the four consultation offices. There, each child was given a health booklet where surgeons recorded surgical indicators.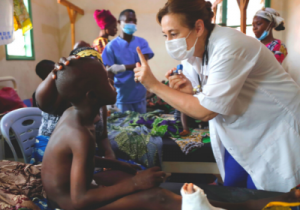 During the day, I assisted my fellow Beninese pediatrician in consulting children with various pathologies. Some suffered from inguinal and umbilical hernias (displacement of all or part of an organ outside the cavity that is meant to contain it), others from hydroceles (accumulation of liquid in a "pocket" surrounding the male genitals) or bone deformities caused by rickets (vitamin D and calcium deficiency). Often, the children who are victims of this disease are kept indoors for fear of malaria.
In the five rooms set aside for consultations: one was reserved for pediatrics and the other four for pediatric surgery. By nightfall, 39 children were scheduled for surgery the following day. 
DAY 4: START OF OPERATIONS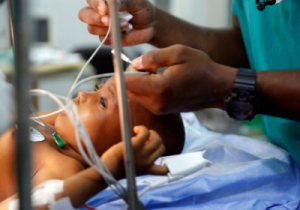 Monday, July 5, marked the beginning of our surgical operations, under the watchful eyes of the four DES-CP diploma students. This mission was not only a chance to operate on many children in a short period of time. It was also a great opportunity to transfer knowledge and skills to our diploma students. 
By the end of the day, 40 children had already been treated – one more than initially planned. In parallel to the operations, the remaining consultations were carried out by the surgeons and the pediatrician.
DAYS 5 TO 8: 191 CHILDREN TREATED. A BEAUTIFUL PROJECT IN PERSPECTIVE
Tuesday morning, we accompanied the medical team for day two of operations at the Klouekanmé hospital. Before getting down to business, we all posed together to capture a photograph to immortalize this beautiful adventure with a family photo. We took a moment to share our observations about the mission so far, both positive and negative, in order to improve our future missions.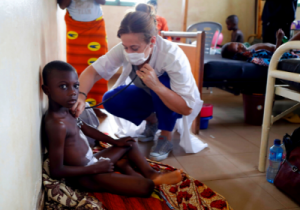 As surgeries carried forward, Isabelle and I left the group at 10:00 am to meet with other pediatric surgeons in Cotonou. We wanted to take advantage of this mission as well as review the progress and problems encountered in the country. By meeting with different stakeholders, we gained a better sense of the needs in-country as it related to equipment, training, missions, and capacity – information which was necessary in order to strategize and improve our programs moving forward. 
Back, in Klouekanmé hospital, the mission had quickly found its cruising speed. Sustained and constant. Nearly 40 children were operated on daily, Monday through Friday. Claire de Crisenoy and Dr. Emilie Langlais were doing an extraordinary job and adapted very well to a working environment that was far from what they were used to. The nursing staff worked tirelessly, all hours of the day and night. Despite the arduous demand, the entire team did a remarkable job providing each child with quality care.
When the mission concluded on Friday evening, a total of 191 children had been operated on. That's 191 children under the age of 15 whose lives had been changed in the space of one operation.
That evening, we left the beautiful city of Cotonou to drive to Lomé, the capital of Togo. There, we had appointments with the general directors and the surgeons of the city's two main hospitals. Our goal was to assess their capacity to welcome USFC medical missions and to discuss their needs in terms of equipment. I also met with our local partners to finalize two projects that began in January 2021: the "IGNACE" project – a pilot study of sensory screening in 4 schools  – and the finalization of our study on the effect of spirulina supplements – an algae very rich in iron – to correct anemia in children.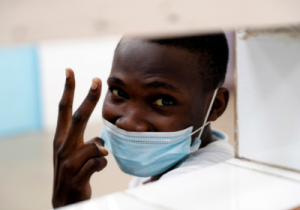 Returning to Paris, I had in mind all of the faces, smiles and gratitude I was met with during this mission. Those of grateful parents and cured children, whose lives had been changed forever. But I will not forget those children that were unable to receive operations; those who required treatments too complex to be performed during a mission of this type.
Tomorrow, I will return to my daily life but I will continue to work with these wonderful people at headquarters and in the field. We will continue to work together to ensure that all these children, still waiting for their operations, can benefit from the same opportunity.