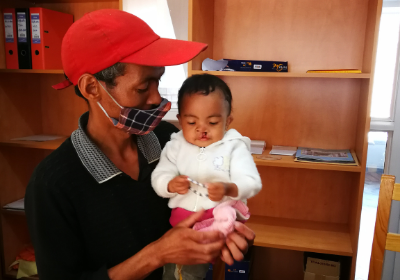 Nofy was born 4.4 lbs, an only child, to a seamstress and a grocer from a rural village on the outskirts of Antananarivo, Madagascar's capital. Nofy was born underweight and with a left cleft lip.
As an infant, doctors were aware that Nofy was not gaining weight as she should. At 6 months old, Nofy developed acute bronchitis and refused to eat. Not shortly after, Nofy had to be hospitalized. During her stay that the hospital, a cardiac ultrasound revealed that she had a small pericardial effusion. A pericardial effusion is the buildup of extra fluid in the space around the heart. If too much fluid builds up, it can put pressure on the heart. This can prevent it from pumping normally.
In March 2020, at the age of 9 months, Nofy was taken to Antsirabe, Madagascar, a town 100 miles south of the capital, for surgery to repair her cleft lip. It was during her pre-anesthesia visit that a heart murmur was discovered. Following a second, closer cardiac ultrasound in the capital, doctors uncovered that Nofy had a patent ductus arteriosus (PDA) in addition to the pericardial effusion. A patent ductus arteriosus (PDA) is a persistent opening between the two major blood vessels leading from the heart. Doctors immediately prescribed medical treatment and organized a surgery to close Nofy's PDA.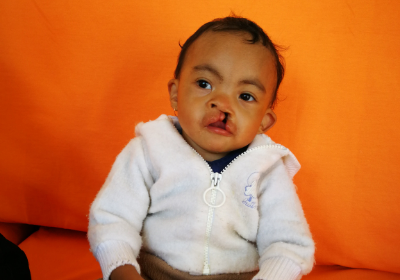 Nofy's surgery was possible at the Soavinandriana Hospital, however, her parents could bear the cost of the operation. It was then that USFC was introduced to Nofy by local cardiologists. At 16 months, when Nofy weighed only 11 lbs, she received heart surgery – the full cost of which was covered by USFC. Today, Nofy is in excellent health.
She has put on weight, enjoying cereal as well as mashed potatoes with cheese. She loves music, dancing, cartoons and playing with other children. Nofy's parents are extremely grateful. It's thanks to donors such as yourself, that Nofy is happy and healthy today.