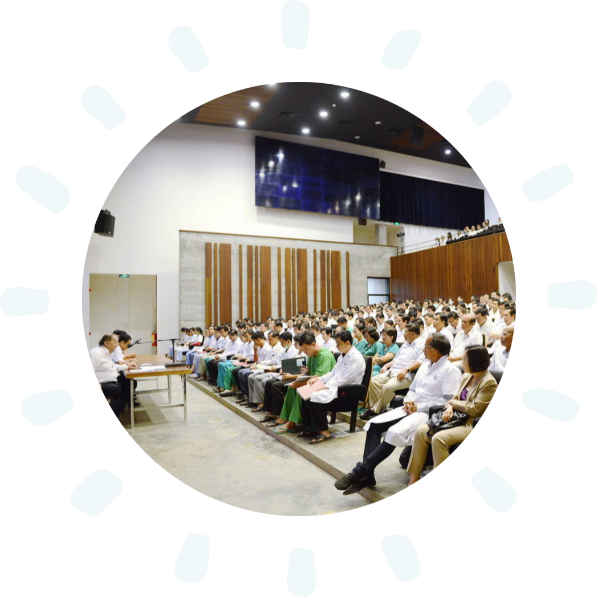 United Surgeons for Children wants to make sure children everywhere live a happy & healthy life. To make this possible, there needs to be easy access to qualified medical professionals. Unfortunately, poverty is often a barrier to obtaining a medical education. In addition, those who do are more likely to leave the country as wages tend to be higher in more developed countries. As a result, there's a shortage of qualified healthcare workers. To solve this problem, USFC provides healthcare training connecting local medical teams to some of the world's most recognized experts.


What Kind of Healthcare Training Programs Do We Provide?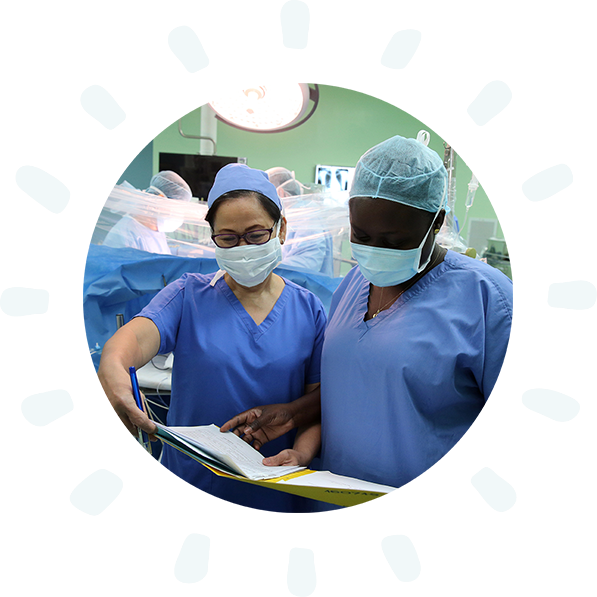 In order to ensure a healthcare system runs as efficiently as possible, it's vital that those working in the system are skilled and trained. Local public health suffers if doctors and nurses don't have the necessary training and support. This is why USFC has spent the last 25 years training local healthcare professionals through methods such as:
Remote medical training.
On-location lectures at a hospital, university, or local health training center.
Hands on training through the observation of consultations & operations.
There is no sustainability in our mission, without a strong training component. Although USFC provides medical equipments & helps build healthcare infrastructures, we can't do this unless we know we're giving these resources to medical professionals who can make the most out of their usage. Above all, we want to make sure people in the world's poorest countries have the access to quality healthcare.
Aghanistan
Bangladesh
Benin
Chad
Cuba
Guinea
Haiti
Iran
Iraq
Ivory Coast
Laos
Madagascar
Mali
Mozambique
Senegal
How USFC Training Benefitted Doctors in Their Country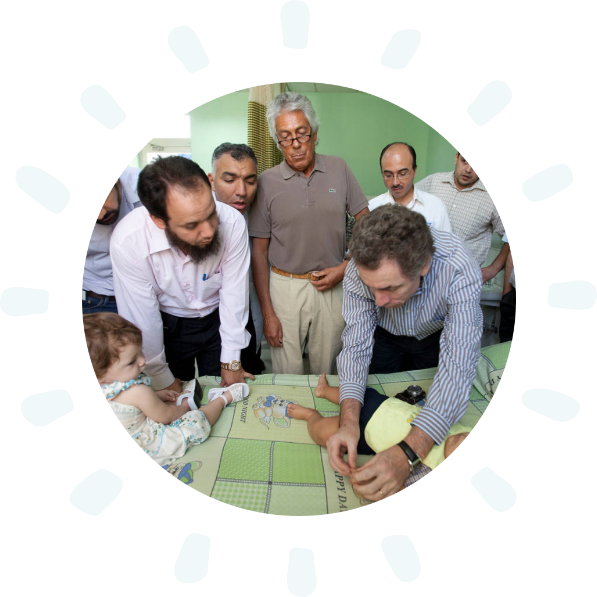 Access to the World's Best Medical Experts
Dr. Eude Ulrich Elvis Goudjo is a pediatric surgeon from Benin. From a young age, he wanted to become a pediatric surgeon. Thanks to a scholarship from USFC, Dr. Goudjo was able to obtain his Diploma of Specialized Studies in Pediatric Surgery in Lomé, Togo. As part of this diploma program, USFC provides access to some of the world's best surgeons for hands on training.
Today, as a pediatric surgeon, Dr. Goudjo continues to support USFC's mission in Benin. When reminiscing about his training, Dr. Goudjo said, "we could exchange with the greatest international experts in pediatric surgery. I think it was these seminars organized by USFC that taught me the most."
Scholarships for Healthcare Workers in Need
As shared above, Dr. Goudjo received a USFC scholarship which enabled him to become a pediatric surgeon. In Dr. Goudjo's home country of Benin, the average person brings home less than $611 per year. That means the average Benin resident brings home about $1.67 per day. As you can see, that doesn't leave a lot of extra money to cover the cost of the most basic education let alone a surgical degree.
However, Dr. Goudjo showed passion for the work being done and USFC strives to make sure we can support those who have that ambition to serve.
Training Everyone Who Needs It
In order for a healthcare network to be successful, you need to have skilled people at each level. That's why USFC provides training to all medical and surgical team members. These include surgeons, perfusionists, anesthesiologists, nurses & other skilled medical specialties.
Creating an Independent, Skilled Medical Team
We're all familiar with the saying that if you give someone a fish, they eat for a day. However, if you teach them to fish, they can eat for a lifetime. The same logic applies to our medical mission. By simply going to a country, performing the work, and then leaving, there's no transfer of skills from the expert to the local medical teams.
As a result of embarking on these important healthcare training missions, we give medical teams on location the skills they need to operate autonomously. Once they're able to operate autonomously, then they're able to share the knowledge they've received with their counterparts in neighboring regions and countries with similar socio-economic profiles. In that respect, USFC seeks to create a chain of knowledge, where those who have been trained pass on the skills to those who still need to gain knowledge. So, you're seeing both a short term & long term improvement in the country's public health system thanks to a simple training mission.
Why Healthcare Training Programs Are Important
Poverty Makes Education Less Attainable
For example, the average person in Burkina Faso lives on less than $1.90/day. Imagine being in that position. People living at that level of poverty are more concerned about being able to afford essentials needed today vs. planning for tomorrow. As a result, education is often cast aside, as younger generations leave school to enter the workforce in order to support their families.
Those Who Are Educated Don't Stay in Their Country
Often, those who complete their studies leave their home country in search of higher wages. For instance, Ghana's government subsidizes great healthcare training programs to push people into the medical field. However, VOA News estimates over 56% of doctors & 24% of nurses trained in Ghana leave Ghana for higher paying jobs in more developed countries. This phenomenon called the Brain Drain is especially prevalent in developing countries.
Healthcare Training and Consultancy is Difficult to Find
The phenomenon seen in Ghana happens all over the world in both the healthcare & education sectors. Naturally, the next step for a doctor or nurse can be to become a professor of medicine. Generally, this is helpful since the expertise of the professor can be shared with students creating a new generation of medical workers. With that being said, how can you train medical professionals if you don't have enough to begin with?
As you can see the world's poorest nations face many problems such as:
Scarcity of basic resources
Lack of qualified staff
A difficult environment to bring up future healthcare workers
USFC's mission helps to take care of all of these issues in the countries most in need. Our team of expert surgeons, doctors, and nurses take the time to support healthcare training & consultancy missions
Support USFC's Healthcare and Training Consultancy Mission
As you can see, a society's health is put at risk when it doesn't have enough qualified workers. Our programs help train local doctors giving them the skills they need to impact their community. However, there are still many countries in need. USFC can't work in these countries without contributions from people like you. So, please consider donating to the USFC.