Heart Disease Organizations
According to WHO statistics from 2019, heart disease is the world's leading cause of death. As a result of poverty limiting access to medical resources, poorer countries experience higher death rates due to heart disease. Heart disease organizations such as USFC have learned many valuable lessons about treating this disease. Above all, it's important to make sure doctors on the ground have the staff, skills, and infrastructure needed to manage a region's healthcare needs. USFC has dedicated its mission to building these crucial components in the world's poorest countries.

What are the Different Types of Heart Diseases?
Unfortunately, heart disease is the leading cause of death in the entire world. Heart disease awareness is so important because it's something that affects everyone. Let's learn more about the various types of heart disease:
Congenital Heart Defects
A congenital heart defect is one or more problems with the heart's structure present from birth. They are one of the most common birth defects which occur at a similar frequency all around the world. There are two main causes of congenital heart defects.
Environmental Factors
Congenital heart defects can be due to environmental factors that occur while a baby is in utero. For example, this can be due to the consumption of risky medications or becoming sick with illnesses such as diabetes or rubella.
Genetics
Often, cardiac malformations can be attributed to genetics. Congenital heart defects are often identified during prenatal or postnatal ultrasound screenings.
What are the Most Common Types of Congenital Heart Defects?
Now that we understand the causes of congenital heart defects, it's important to identify these defects:
Atrial Septal Defect
Also known as an ASD, an Atrial Septal Defect occurs when there is a miscommunication between the right and left atria of the heart.
Interventricular Communication
An Interventricular Communication (also known as an IVC) happens when there is a miscommunication between the right and left ventricles.
The Tetralogy of Fallot
Nearly 50% of congenital heart defects can be called the Tetralogy of Fallot. This happens when there is a combination of four abnormalities that occur simultaneously.
Acquired Heart Diseases
In certain regions of the world, access to running water, antibiotics, and oral hygiene standards are not as common as they should be. As a result, this leads to the growth of harmful bacteria. The bacteria will then migrate to the heart where it calcifies the valves. These calcifications can be further aggravated by poor oral hygiene. As a result, patients will develop acquired heart diseases including but not limited to:
Mitral Insufficiency & Mitral Shrinkage
Also known as MI & MS, these events happen when the mitral valve is no longer able to open or close properly.
How We Fight Heart Disease
Above all, USFC wants to ensure that local medical teams are trained to be completely autonomous when conducting cardiac care. In order to do so, USFC implements an integrated approach to heart disease that aims to strengthen human and technical capacities around the world. This approach is based on a few important points:
Proper Diagnosis of Patients in the Field
Thanks to our excellent network of doctors and traditional practitioners, we work closely with local medical professionals to help them deliver a proper diagnosis. Once this happens, we can then recommend the best treatment plan.
Diagnosing Heart Disease as Early as Possible
As a result of our investments in ultrasound screenings, we're able to detect and diagnose heart disease early. In addition, the quicker we're able to diagnose the problem, the more likely it is that the treatment will end up being successful.
Treatment & Care
When a child requires surgery, we strive to treat them on-site whenever possible. However, , when technical or human capacity does not allow for local care, these children are transferred abroad for treatment at partner hospitals.
Training of Local Medical Teams
In an effort to attain autonomy among local medical teams, we need to provide training. Throughout a typical mission, USFC implements three types of training:
Hands-On Training
During missions in the field, USFC teams provide hands-on training for local teams. In addition, when possible, USFC sends local medical teams to study and intern abroad in countries where cardiac surgical techniques are well established.
For example the Heart Institute of Ho Chi Minh City welcomed West African doctors for several months of cardiac training. Through this process, we can continue to build the chain of hope passing USFC training from doctor to doctor, throughout the workplace.
Thanks to our remote cardiac ultrasound platform, ECHOES, USFC provides remote training and offers long-term collaboration with local partners. ECHOES connects local teams with doctors from Europe and the US for live consultations. Local teams can benefit from the expertise of their international counterparts on a daily basis.
Capacity Building
With sustainability being an important consideration, USFC supports the building and equipment of surgical centers that allow for the treatment of cardiac diseases.
Once a country becomes autonomous in the management of heart diseases, we replicate this model in other countries. The autonomous medical staff go on to train new teams in the field – passing the baton to their local counterparts.
Where We Fight Heart Disease
Certainly, heart disease is a global public health concern. Above all, USFC wants to ensure that everyone has access to the best care possible. In the long run, we want to impact as many people as possible. Your donation can help USFC expand its work into many other places. It's important to note that thanks to gifts from our generous donors, USFC has had a sustained impact on cardiac care in the following countries.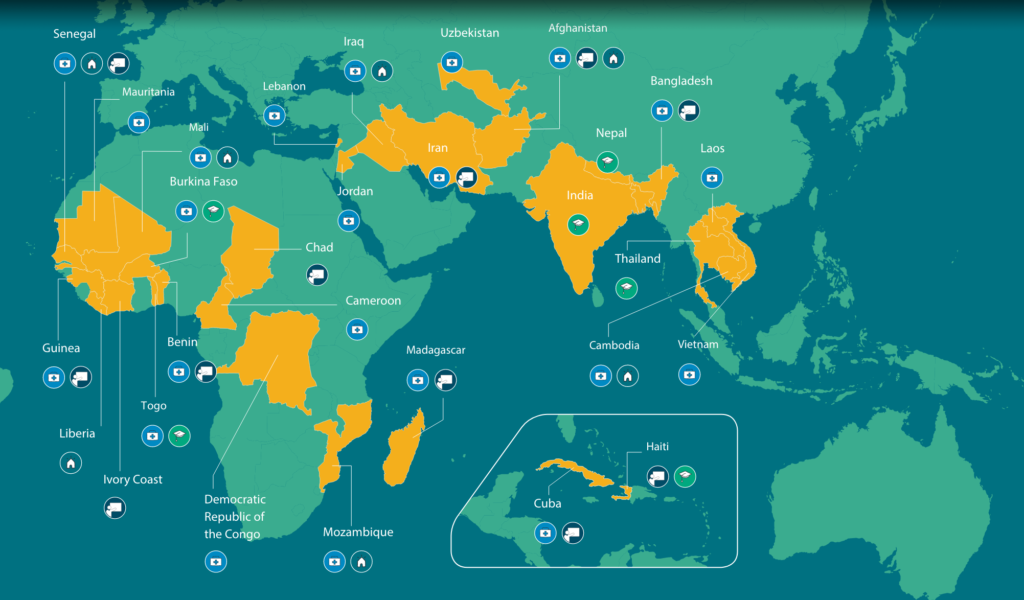 1990s: USFC trained a surgical team at the Ho Chi Minh Heart Institute in Vietnam. Today, the Heart Institute has become a national reference center for cardiac care and welcomes medical teams from around the world for training sessions.
2001: USFC trained a cardiac surgery team at the brand new Heart Institute of Maputo, Mozambique. In addition, USFC built, supplied equipment to, and trained the staff of the Phnom Penh Heart Center in Cambodia. As a result of the medical training provided by USFC, in the 20 years since this project started, the Mozambique and Cambodia teams have become autonomous in conducting cardiac care.
2005: USFC built and equipped the French Medical Institute for Mothers and Children in Kabul, Afghanistan.In addition, our team took charge of the training of local teams. As a result of our training, we were able to help become a pioneer of cardiac care in Afghanistan. Additionally, the FMIC is now the only hospital in the country to perform cardiac surgery.
2015: Thanks to our investments in remote medical training, USFC performed our first remote consultations. This is thanks to the development of the ECHOES remote ultrasound platform. To summarize the benefits of ECHOES, this innovative solution creates a real, daily connection between USFC and local medical teams on the ground. With the help of the ECHOES platform, we see a huge improvement in the accuracy of diagnoses.
2017: Opening of the Cuomo Pediatric Cardiology Center in Dakar, Senegal. In the time since the center has opened,it has become a reference center for the training of medical teams from all over West Africa.
2018: USFC built and equipped the André Festoc Cardiopediatric Surgery Unit in Bamako, Mali. After opening the unit, we hosted the first open heart surgery in the history of the country.
2021: USFC has begun to facilitate the rehabilitation and equipment of a cardiopediatric care unit in Antananarivo, Madagascar. The project is expected to be completed by the end of 2021. Our goal is to perform the first open-heart surgery in the country's history. In addition, it will allow for treatment of the most seriously ill patients in Madagascar. Historically, we would need to transfer the patient abroad to perform such treatment.
The Anatomy of a Construction Project
It's important to examine the process of one of these projects from start to finish. For example, let's have a look at the André Festoc Cardiopediatric Surgery Unit in Bamako, Mali. Since 1994, USFC has worked in collaboration with Professor Diarra, Director of the Mother and Child Hospital "Le Luxembourg" in Bamako, to transfer nearly 500 children with heart disease to France for treatment
Faced with growing needs in cardiopediatric care, it became clear that we needed to provide an alternative, more sustainable solution to transferring patients abroad. So, in 2016, USFC decided to build and equip a unit dedicated to pediatric cardiac surgery within the existing hospital.
This project was made possible by a generous in-memoriam donation. Without this generous contribution, this project would not have been possible. Learn how you can support our work.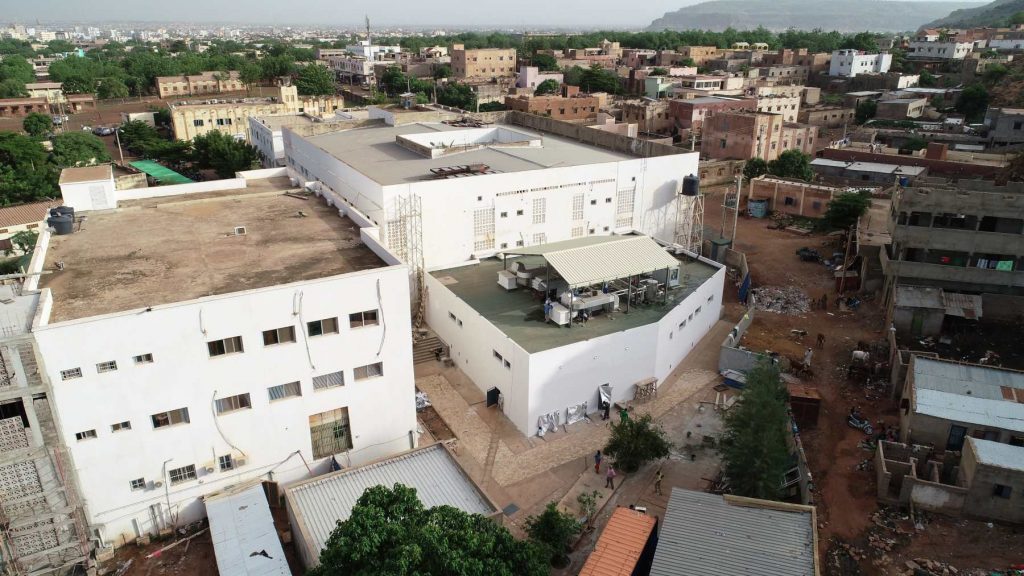 Following 15 months of construction, and several months of training for the team in Mail, the first open-heart surgery was performed on September 10, 2018 in the brand new André Festoc Cardiopediatric Surgery Unit. This first operation was conducted jointly by a Franco-Malian team.
Above all, we want to guarantee the quality of every surgery. With that in mind, USFC continues to organize training missions for the Malian team. In 2019, a total of 90 medical, paramedical and administrative personnel traveled on 25 medical support missions to strengthen the skills of the Malian team.
Thanks to the continuous presence of volunteer staff chosen by the best specialists in the world, our mission in Mali has been successful.
USFC's continued involvement, training, monitoring, and support of the Malian team has enabled them to operate autonomously on most cardiac diseases. However, our missions continue in order to support local teams with complex pathologies.
The André Festoc Cardiopediatric Surgery Unit's Impact on Mali
Thanks to USFC, Fanta was the first child to receive open-heart surgery in Mali. When the Andre Festoc Unit opened our medical teams selected the patients most in need of heart surgery. Among them was 6-year-old Fanta, who was born with an atrial septal defect.
Fanta made history in Mali by being the first child to receive open-heart surgery in the country. Today, after more than two years of intense activity, and an unprecedented inter-professional and international cooperation, Fanta and hundreds of other children in Mali have received life-changing surgery.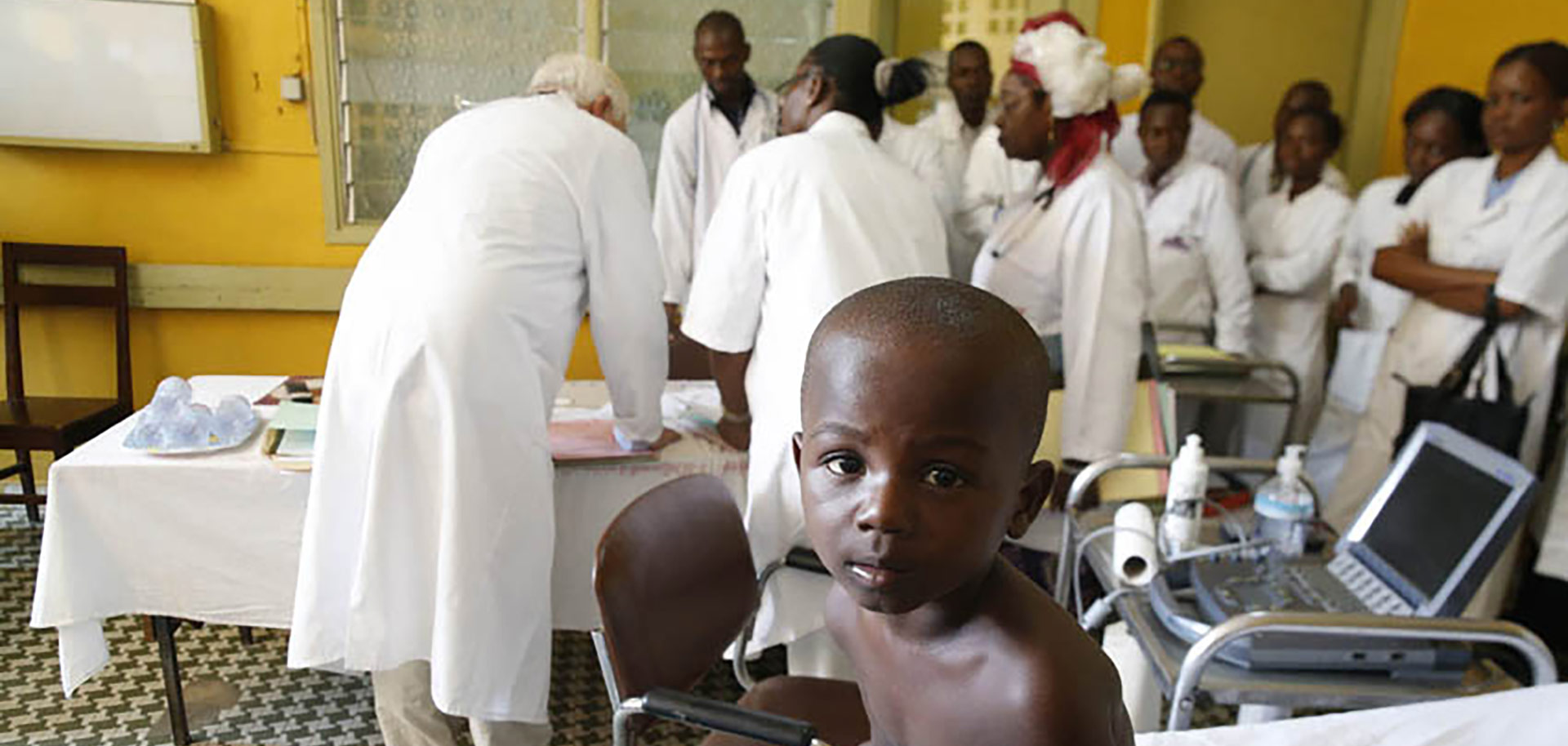 How You Can Help These Children
As you can see, when you give people the tools needed to succeed, they'll use them. Thanks to heart disease organizations such as USFC, we've helped improve the lives of many people. Above all, we want to make sure more people have the best health they can possibly get. However, we cannot do this without your help. Please consider donating and supporting USFC's important work.