Cuba: Pediatric Surgical Training
Population: 11.48 million
Cuba's national health system is part of the social and economic structure of the country. Cuba spends about 10 percent of its GDP on health care. Services are free and funded by the state. The leading causes of mortality are, in descending order: cancer, cardiovascular diseases, cerebrovascular diseases, influenza and pneumonia, and accidents. Deaths attributable to infectious diseases amount to barely 1.1% of all deaths. Strategic priorities for the country include strengthening of the national health system with emphasis on quality, sustainability, and efficiency
There are an estimated 8.19 physicians per 1,000 population and 7.79 nurses and midwives per 1,000 population.

Infant mortality rate (per 1,000 live birth): 2.1

Under-5 mortality rate (per 1,000 live births): 5
*Estimates Developed by the UN Inter-agency Group for Child Mortality Estimation (UNICEF, WHO, World Bank, UN DESA Population Division)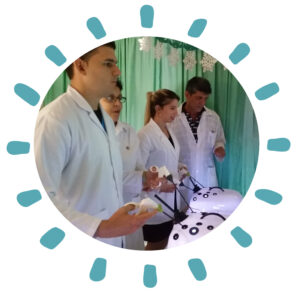 Six students from rural communities were able to reside in the USFC residence while studying for their diplomas in pediatric urology at the Calixto Garcia University.

Two senior specialists received training in pediatric urological surgery.

A laboratory for laparoscopy simulation was donated and training sessions were organized for medical students in the towns of Villa Clara, Cienfuegos, Santi Spiritus and Ciego de Avila.

A location was established for the Cuban Society of Pediatric Surgery and equipment was provided to enable the editing and distribution of the Cuban Pediatric Surgery Review.

A training room for 60 students was established at the Central Havana Hospital and equipped with the audio and video requirements necessary for training.

Two gatherings were organized to bring together doctors from Cuba, Chile and America on new treatments for urological pathologies.

The National Pediatric Conference was organized with presentations on infection and antibiotic therapy, as well as infantile genital surgery.
USFC provided support and advice on two pediatric surgery units established at the Central Havana Hospital and the Cerro Hospital.

USFC often works with Cuba to organize medical conferences and seminars on subjects related to pediatric surgery. In addition, USFC has donated a residence nearby Calixto Garcia University where students from rural areas can live while they study for their diplomas. We have also donated and outfitted multiple pediatric surgery training rooms and laboratories. Thanks to the successful collaborations that have taken place over the past few years, USFC has established a sustainable teaching course in Pediatric Urological Surgery.