Population: 38.27 million
Iraq is still recovering from long period of conflict and political turmoil. While modernization of the public sector remains a top priority, limited focus on good governance is affecting the implementation of laws, provision of services and effective management of the country's resources. The health care delivery system in Iraq has historically been a hospital-oriented with less emphasis on preventive measures. About half the health centers are staffed with at least one medical doctor. The rest have trained health workers. Public health care facilities are not equitably distributed between rural and urban populations. While medical services in the public sector hospitals are free apart from nominal charges, many people choose to seek care in the private sector health centers to avoid longer waiting times in the public facilities and adverse perceptions of quality. The education and training of health professionals is carried out in the public sector, where education is free. There is no education policy or pre-service education strategy to guide the country's health workforce production and there is no database on preservice qualifications or in-service training completed by staff.
Although military operations ceased in the autumn of 2017, the humanitarian situation remained difficult throughout 2018. At the end of the year, there were more than 2 million displaced persons and a third of them were in the Kurdish part of Iraq. Baghdad's reclamation of territories meant a reduction in the human and financial resources available to keep medical and surgical departments operational.
There are an estimated .8 physicians per 1,000 population and 1.7 nurses and midwives per 1,000 population.

Infant mortality rate (per 1,000 live birth): 22.5

Under-5 mortality rate (per 1,000 live births): 27
*Estimates Developed by the UN Inter-agency Group for Child Mortality Estimation (UNICEF, WHO, World Bank, UN DESA Population Division)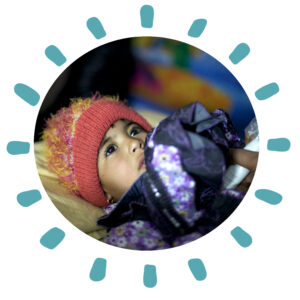 USFC established a permanent team in northern Iraq in 2016 to respond to the surgical needs of the population. In 2017 the work was focused on the rehabilitation of operating theaters in Rabbia and Sinoni. In 2018, thanks to the support of the CDCS and the DoH, USFC worked to reinforce the operating theaters in the Bardarash district and Semmel. In Bardarash the efforts were to maintain surgical activity while in Semmel USFC worked to reopen the operating theater and reinforce management practices.
In 2018:
USFC organized 4,700 surgical consultations in Iraq

USFC performed 900 operations for patients in Iraq

USFC provided training in aseptic techniques and operating theater management for 110 medical staff members.

Thanks to the success of the Iraq program, in 2019, USFC committed to a new project in Sinjar in collaboration with Nadia Mourad, 2018 Nobel Peace Prize winner, and the Crises and Support Centre. Through this initiative USFC and its partners will construct a new hospital equipped with a proper operating theater to encourage the return of Sinjar's displaced residents.   
In tandem, USFC will continue its partnership with the reference hospital in Dohuk, offering surgical treatment for the most vulnerable including the displaced Yezidi population.