Jordan: Access to Medical and Surgical Treatment
Population: 9.7 million
Jordan's population includes more than half a million Syrian refugees and migrants, in addition to refugees from other places like Palestine, and the continued influx of refugees to the country places significant strain on the health system overall. Despite the best efforts of global actors, access to quality care has continued to decline as the refugee and migration crisis grows – impacting not only these incredibly vulnerable populations "on the move" but also the most disadvantaged Jordanian citizens. Rather than turn away from a challenge, our teams have strengthened our efforts to respond in Jordan to the pressing needs on the ground – including outreach and treatment for the estimated 3% of the population suffering from rarely treated heart malformations and orthopedic complications, a primary driver of disability and impeding well-being.
While caught up in the surge of forced displacement and migration in the region, the country is undergoing a demographic and epidemiological transition that has made non-communicable diseases a greater threat in the country. USFC and other international NGOs form part of a complicated multi-player health sector, including other public and private sector actors, that are focusing attention on clinics for refugees and vulnerable populations during these volatile, changing times for Jordan. Key indicators highlight the needs for our interventions, including:
An estimated 1.41 physicians per 1,000 people and 2.64 nurses and midwives per 1,000 people.

Infant mortality rate (per 1,000 live births): 14

Under-5 mortality rate (per 1,000 live births): 18

Approximately 2.95 million refugees and migrants in total.
*Estimates Developed by the UN Inter-agency Group for Child Mortality Estimation (UNICEF, WHO, World Bank, UN DESA Population Division)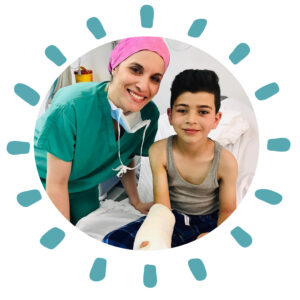 USFC has been active in Jordan since 2012, in response to the mounting refugee crisis in Syria. Of the Syrian refugees in Jordan, more than half are children and youth, with the vast majority living below the poverty line and in some form of debt. Jordan, already having an overtaxed medical system, is unable to absorb the tremendous needs of this population. Alongside other partners and NGO actors, USFC has stepped in to provide urgently needed care to vulnerable children. Our focus is on a broad-reaching medical and surgical aid program with specialized missions in orthopedic and cardiac surgeries.
In 2018, we were selected for new funding from the European Union – Civil Protection and Humanitarian Aid (ECHO) portfolio, which has enabled us to ensure access to quality medical and surgical treatment for children and young adults with orthopedic complications or heart malformations. As a result of that funding :
USFC organized 11 medical missions, including 3 heart surgery missions and 8 orthopedic surgical missions.

USFC provided medical consultations for 750 children.

USFC provided 220 successful operations for patients in Jordan.
Since 2012, USFC has carried out over 1,000 pediatric surgeries for Jordanian and Syrian refugee children. 

Since that time, our work has evolved to accommodate the large number of children requiring orthopedic surgery, with missions scheduled every other month throughout the year. Most surgeries are required on lower limbs, consistent with what we would expect to see in conflict settings, and we have carried out more than 460 such orthopedic surgeries since 2013. We also maintain strong partnership with organizations like Humanity & Inclusion (also known as Handicap International) to maintain ongoing patient support, particularly through their physical therapy needs in recovery.