Population: 6.858 million
Laos has seen rapid economic development in recent years. Public spending on health remains low, and health service provision continues to rely on out-of-pocket spending and external financing. Laos faces regular outbreaks of communicable diseases and increased cross-border exchange and climate change are expected to put further pressure on the health system's capacity to prevent, monitor and control outbreaks. The vast majority of the population in Laos lives below the poverty line. This has serious implications on children's access to fundamental rights, and in particular the right to health. There are many factors that contribute to children's inaccessibility to healthcare including a lack of infrastructure, financial means and pediatric surgery.
There are an estimated 0.182 physicians per 1,000 population and .876 nurses and midwives per 1,000 population.

Infant mortality rate (per 1,000 live birth): 37.6

Under-5 mortality rate (per 1,000 live births): 66.7
*Estimates Developed by the UN Inter-agency Group for Child Mortality Estimation (UNICEF, WHO, World Bank, UN DESA Population Division)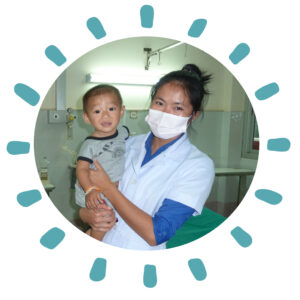 USFC has been active in Laos since 2011 at the Vientiane Children's Hospital with a primary focus on pediatric surgery.
One medical mission was carried out in Laos in 2018:
USFC performed complex surgeries for 25 children 

USFC provided training in pediatric visceral surgery for local medical teams which has now enabled them to carry forward these surgeries on their own

As a result of the progress made in 2018, the focus has been shifted to support abdominal surgery.
One pediatric surgeon from Laos received a grant to train in minimally invasive surgery at the National Vietnamese Children's Hospital in Hanoi.

One healthcare specialist received a grant for a two-year training course in pediatric endoscopy in Thailand. This is a specialization that did not yet exist in Laos.
In 2019, missions will be carried out to launch abdominal surgery in the Children's Hospital.