Complementary to our mission of increasing access to surgery, USFC unites health and education for young schoolchildren living in India, Nepal, Haiti, Togo and Thailand.
In 2020, youth were not spared from the devastating impacts of the global health crisis. In fact, for a while, the epidemic kept them from schools, and even worse, from access to healthcare.
In 2020, USFC strived to provide additional assistance to overcome this difficult health situation.
Health Education in Nepal
In Nepal three new health centers opened and a total of 29 heath education programs were put in place across the country. Despite the closure of schools, these health centers remained opened and accessible to children – particularly those who are orphaned. In addition, our network of nurses made regular visits to families during his time to ensure the children were not facing malnourishment or any situations of domestic abuse.
Healthcare Delivery in India
Healthcare in India, particularly the healthcare delivery system, faced many challenges in 2020. Families living in the slums of Jaipur feared going to hospitals which were over saturated with patients suffering from COVID-19. In order to offer them an alternative, USFC set up mobile clinics to supplement the India healthcare system. Our mobile clinics, which live up the highest healthcare standards, saw more than 2,000 patients per month in 2020, treating conditions unrelated to coronavirus, including tuberculosis and other diseases. We also ensured regular outreach to orphans in the Jaipur.
Children's Health in Haiti
In Haiti, we established a partnership which enabled students from 10 of USFC's partner schools in Abricots to access dental care.  In fact, a room in the school was rehabilitated and transformed into a dental office where, two days a week, a local dentist provides free consultations. Similarly, we established programs to ensure these children received sight and hearing tests as well.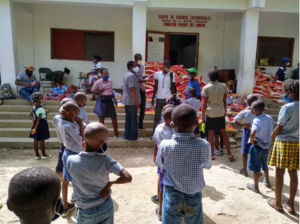 Health and Capacity Building in Togo
In Togo, many children suffer from anemia due to an unbalanced diet. Through a program co-financed by the French Development Agency (AFD), USFC developed a clinical research project to test the effects of spirulina (an algae rich in iron and nutrients) on anemia. In 2020, USFC provided 117 anemic children with a spirulina dietary supplement. A second evaluation will be made next year to evaluate the results of project. In other health-related efforts, USFC also trained teachers from local schools to detect sensory disorders, ENT problems and motor skills development in children.
Vision Programs in Thailand
In Thailand, a region which encompasses 150 schools received ophthalmology equipment which will enable them to provide vision screenings for thousands of children in the region.